Monday, February 14, 2011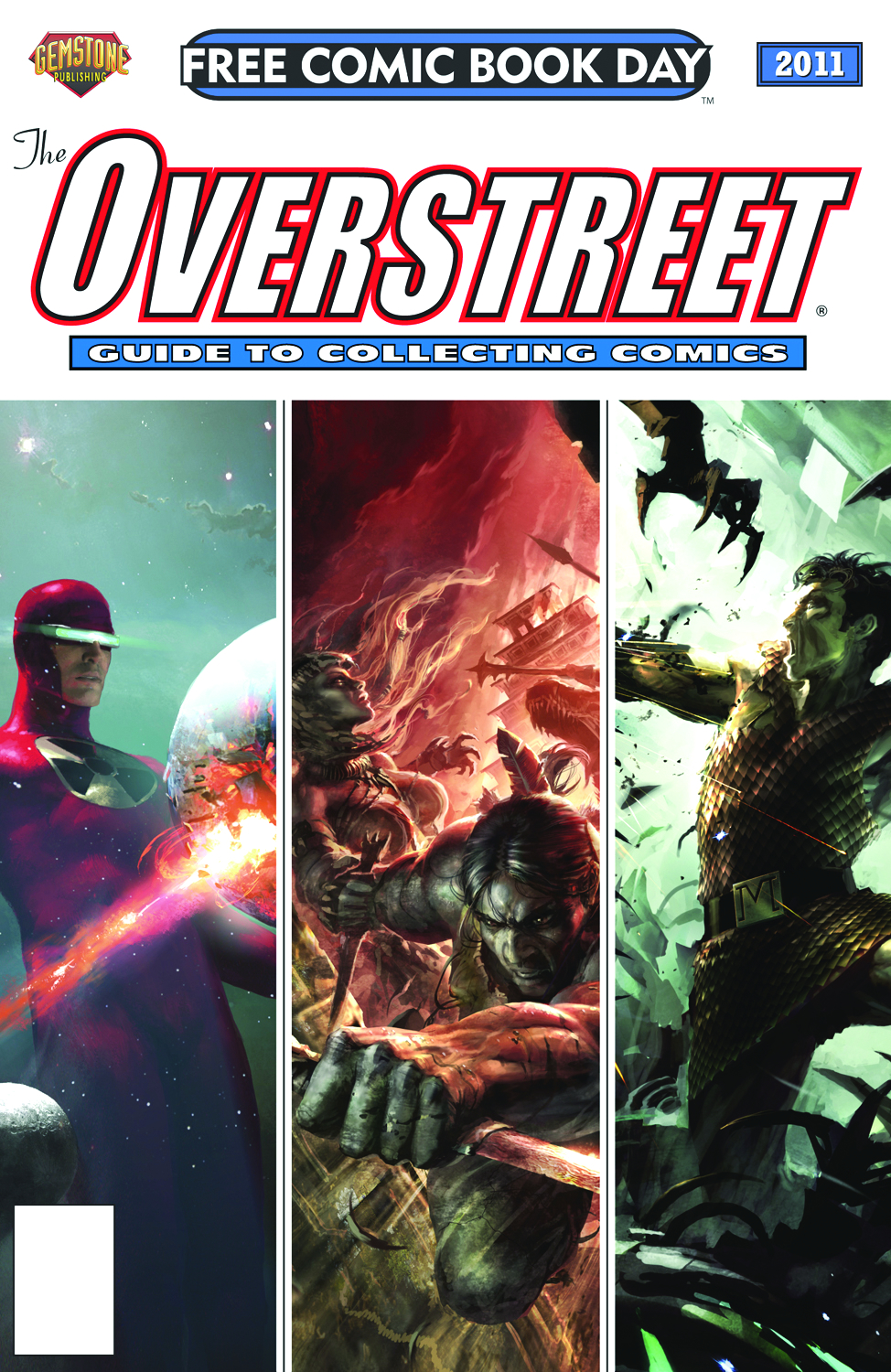 On
Saturday, May 7, 2011
, participating retailers across North America (and some around the world) will host
Free Comic Book Day 2011
. On that day, those retailers will hand our comic books from Archie, BOOM! Studios, Dark Horse, DC, Marvel, IDW and may others free of charge.
Among the free comics will be
The Overstreet Guide To Collecting Comics - Free Comic Book Day 2011
, our latest effort.
Revised and expanded in reaction to retailer and reader requests! How do you collect comics? How do you take care of the comics you buy? How do you grade comics? How do you sell your comics? How do you evaluate their worth? From the team that brings you The Overstreet Comic Book Price Guide come answers to these questions and more facing new collectors and experienced enthusiasts alike!
32 Pages, Full Color, Free
It's written by me (with help from
Bailey Ball
and some of our
Overstreet Advisors
), illustrated by
Gene Gonzales
, with photographs by
Michael Solof
, and designed and edited by
Mark Huesman
.
Posted by

J.C. Vaughn
at 11:28 PM
No comments:


Comic Book Marketplace
returns with a special one-shot that spotlights the short, turbulent history of the Atlas-Seaboard line of comics, their unusual staying power in the minds of fans, and their surprising rebirth that started at the 2010 New York Comic Con and continues with three new #1 issues in March 2011.

This issue also ties directly into the new Atlas exhibit which opens in March at Geppi's Entertainment Museum (Mike Wilbur and I are Guest Curators for the exhibit).

32 pages, Full Color, $3.99
The cover features The Scorpion from The Scorpion #1 by Howard Chaykin.

Posted by

J.C. Vaughn
at 11:21 PM
No comments:


Friday, February 04, 2011
Five hundred years after the end of the world, mutated monsters prowl the desolate wilds, and savage marauders from the wastelands of Jerz scourge the helpless N'Yark tribe.
Samson, the strongest man on Earth, defender of the N'Yark, singlehandedly invades the forbidding fortress of Terra, Queen of the Jerz. Ten thousand hardened Jerz warriors swarm to her defense. The odds for survival look grim. If only the Jerz had more warriors!
It's written by Jim Shooter and me, and illustrated by Patrick Olliffe!
And
Comic Book Resources
has a preview! Check it out!
Posted by

J.C. Vaughn
at 1:44 AM
No comments: