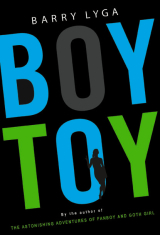 First, I have to admit I might have never read
Barry Lyga's
novel,
Boy Toy
, if it wasn't written by a good friend, but that doesn't have anything to do with the quality of the work, rather the time in which we live -- in this day and age when you see a guy my age without kids in the YA section of your local bookstore, it sends the wrong message.
That said, I'm really glad that I had the excuse to pick it up. And now, months after I packed it away right before I moved to New York, I finally found it... and made really quick work of it, too.
Barry is one of the freshest voices in fiction today. Considering how long I've known him and how long I've been reading his stuff, it's something that it's fresh at all to me, but it remains so because he knows who his characters are and goes to great lengths to put himself in their respective heads.
I was fortunate enough to see his previous book,
The
Adventures of Fanboy and Goth
Girl
, in several early stages, but circumstances weren't as permitting for this one, so I got to it cold. Didn't matter. The characters, action, and environment in
Boy Toy
scream realism, and much more so than the "ripped from the headlines" approach of certain TV shows these days. The vision is clear and the book is a serious page turner. Check it out!